5 Top Crypto to Buy This Week [BTC, ETH, BNB, SOL, DOT]o 2021 Week 2
The crypto market has rallied in the last few days and is up 3.86%, with over $2.8 trillion in total value locked (TVL). This boom was due to a push by investors looking for the top crypto to buy for long-term growth. 
If you are undecided about which assets to invest in, here are some of the top digital assets to buy this week.
1. Bitcoin (BTC)
Bitcoin remains the top crypto to buy for many investors, with an average of over 45% of the global crypto market. The great appeal of BTC lies in it's limited supply for many. There would only ever be 21 million Bitcoins ever to be mined, and this hard cap limit has triggered a future supply squeeze.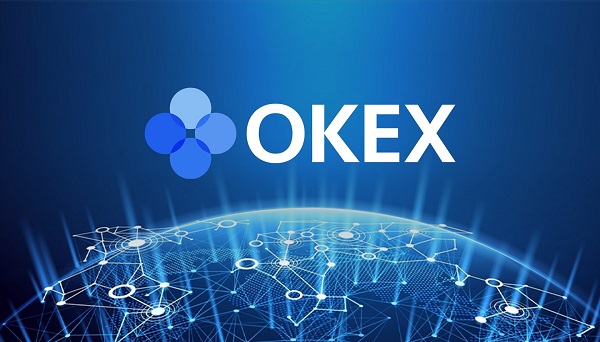 With over 90% of all BTC already in circulation, retail and institutional investors see the benchmark crypto as digital gold.
Bitcoin has also been able to command much mainstream adoption, being the first and only digital asset to have been given the legal tender tag. In addition, it is the most actively traded digital asset in the crypto ecosystem. 
However, the Bitcoin network has often been criticised for its closed-door system, which has largely seen it miss out on the decentralised finance (DeFi) and non-fungible token (NFT) ecosystems due to its lack of support for smart contracts. 
But Bitcoin is now looking to embrace smart contracts, according to a report by Taproot.watch. The premier digital asset is expected to undergo a Taproot softfork upgrade in the coming days, containing three different Bitcoin Improvement Protocols (BIPs) to enable better smart contracts, more privacy, and cheaper network transactions.
This network upgrade has kept Bitcoin in the $65K range as it is up 6.59% today while trading at $65,850. Weekly gains have also been positive, with BTC up 6.66%. This momentum has buoyed the premier digital asset above the 20-day moving average (MA) price of $61,995.70.
2. Ethereum (ETH)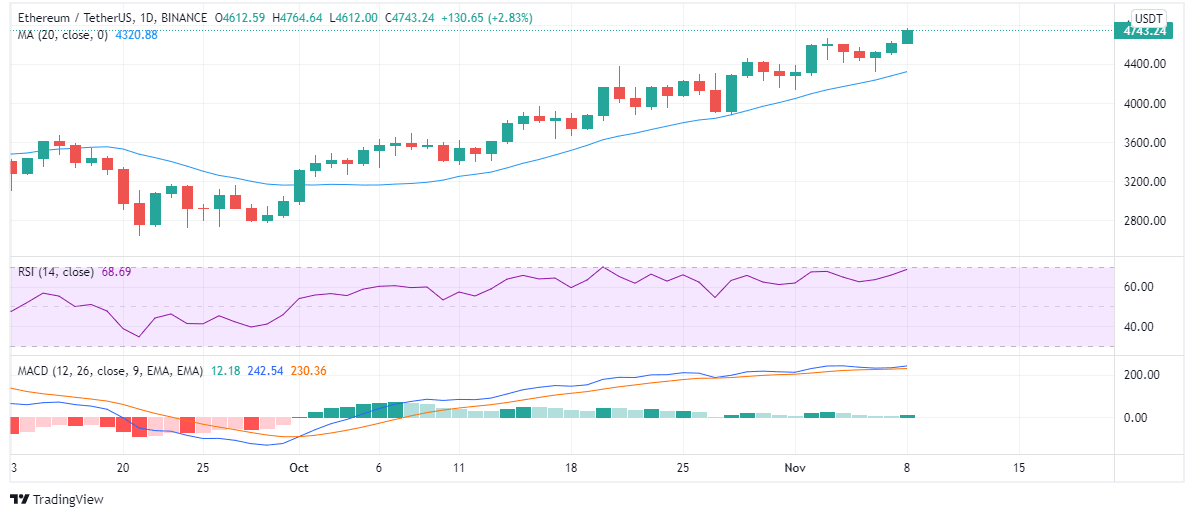 Ethereum has remained a top crypto to buy for a long time, given its valuable input in the world of DeFi and NFTs. 
Although it has not shot up in value like other rivals, the Ethereum network has shown great promise with the expected migration from a proof-of-work (PoW) consensus algorithm to a proof-of-stake (PoS) mining protocol.
The hype around the project has paid off for several investors, with the foremost altcoin already up more than 1,000% in a highly dramatic crypto market. Many ETH holders have been on their toes these past few days as the second most valuable digital asset is looking to tap on the $5,000 mark.
Ethereum's continued spike has resulted from its recently launched Altaire upgrade, which pushes it closer to the PoS dream. This development has led to the addition of new features to the Beacon Chain of the network. So far, ETH is seeing steady growth and is up 3.38% on the daily chart.
Trading at $4,734, ETH is posting its best performance since its launch in 2015 and is trading above the 20-day MA of $4,323.92 with a relative strength index (RSI) of 69.60.

3. Binance Coin (BNB)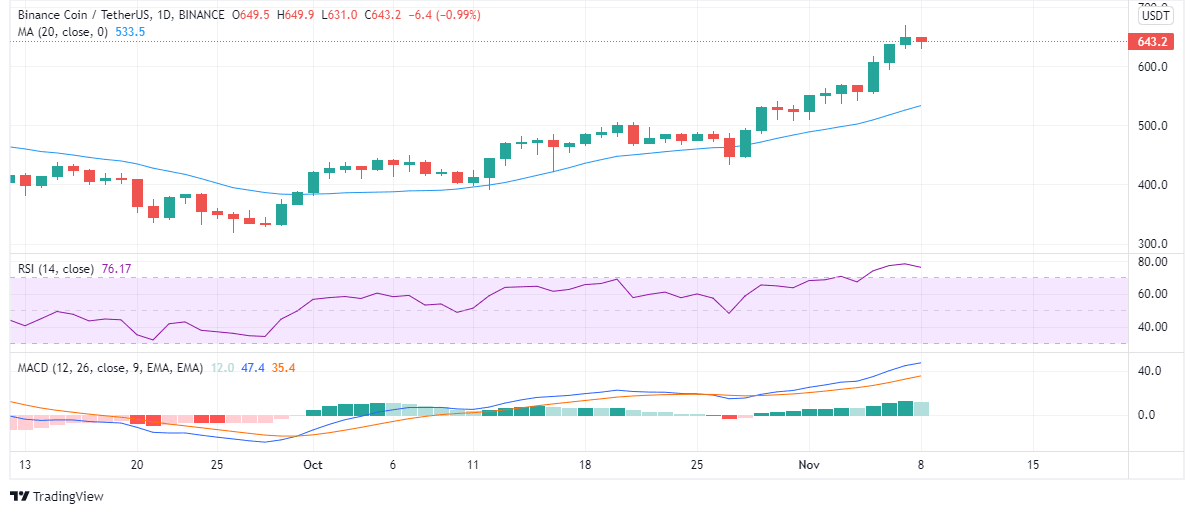 The Binance Coin is a discount token on the Binance exchange, but it has remained a top crypto to buy since the year began. 
Starting the year at a little over $38, Binance Coin with ticker symbol BNB has surged more than 2,000% and has largely held on to its third spot on the crypto ranks.
BNB's remarkable run of form has been tied to its expansive use on the Binance exchange, Binance Chain, and the Binance Smart Chain (BSC). 
Also, the burn mechanism (permanent elimination of existing cryptocurrency coins from circulation) has helped the coin enforce a supply squeeze, further reducing the number of BNB in circulation while causing a surge in its value.
The popular Bitcoin exchange recently burned over $630 million worth of BNB coins and is showing a growing interest in facilitating a real-time burn mechanism.
BNB is currently down 2.03% and trades at $643.2, but its seven-day performance is up 21.23%, which shows strong long-term growth potential. This is confirmed by its 200-day MA price of $417.8 and an overbought RSI of 78.69.
4. Solana (SOL)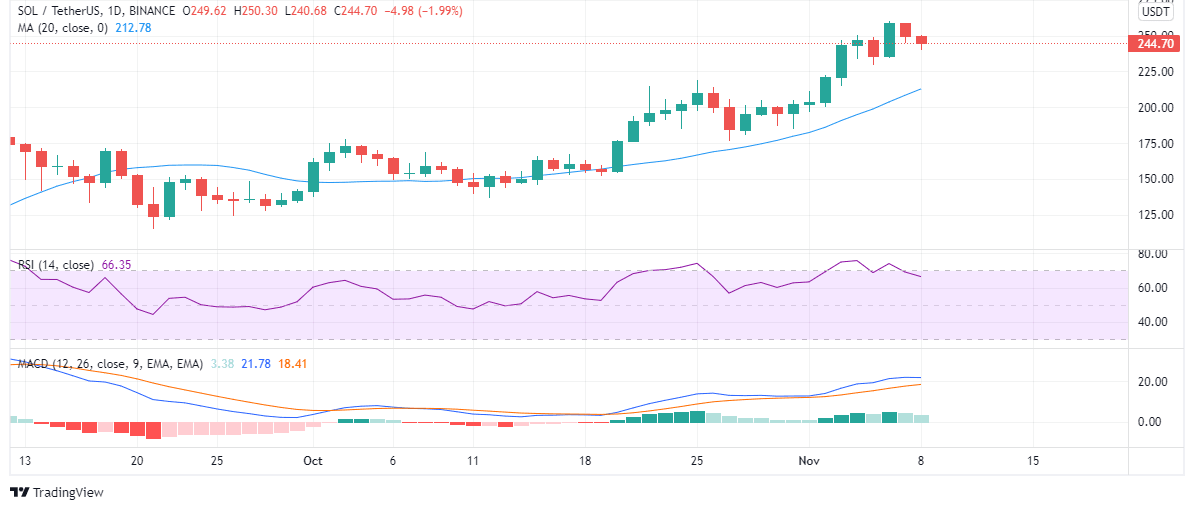 Solana blockchain is another top crypto to buy, given its growing market relevance in the DeFi space. With its proof of stake (PoS) and proof-of-history (PoH) timing mechanisms, Solana is one of the fastest protocols in the crypto ecosystem.
The asset has seen a growing trove of decentralised applications (dApps), with over 500 dApps showing interest in the protocol after the successful launch of its IGNITION hackathon. Alongside this, the popular 'Ethereum killer' participated in a $100 million web 3.0 gaming initiative with the likes of Lightspeed and FTX.
Following a strong price surge, Solana's governance token SOL hit an all-time high (ATH) of $260 in the early hours of today before tailing off. At press time, SOL is down 3.14% from its ATH and trades at $244.70. However, a seven-day increase of 20.59% shows growing market confidence in the protocol's capability to deliver on a faster, cheaper, and greener ecosystem.
5. Polkadot (DOT)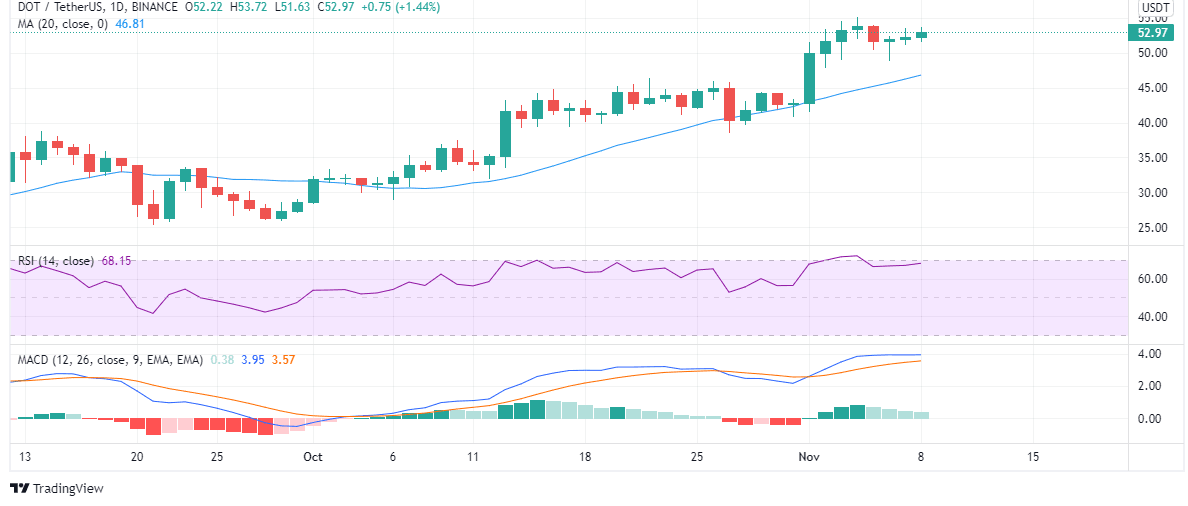 Polkadot has not made much news in the last few months due to its heterogeneous blockchain network development. 
The asset aims to enable interoperability and the seamless transfer of all asset types by using sharding technology, making it a top competitor to the Ethereum network.
But in the past few days, Polkadot's token DOT has stirred several investors' interest given its meteoric rise in value. At the announcement of its parachain auction, the DOT token surged to an ATH of $55 and has largely traded at the $50 range for much of the weekend.
DOT has made little gains at press time and is up 1.05%, trading at $52.97. Weekly gains are sky-high at 17.35%. Much like all our top crypto to buy, DOT is soaring above its 20-day MA price of 41.78. It is trading dangerously close to the overbought region at 68.79, with more momentum expected in the long term.