Ethereum to Bitcoin Ratio Hits Six-Month High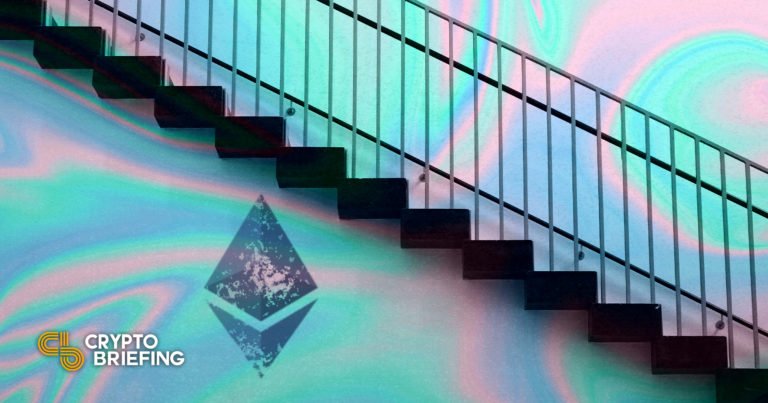 Key Takeaways
Ethereum has risen by nearly 22% in the past five days, far outpacing Bitcoin.
A bullish continuation pattern suggests prices can double.
Meanwhile, the ETH/BTC trading pair looks like it's heading to 0.1.
Share this article
Ethereum appears to have entered a new leg up after testing a crucial area of support. The smart contract platform's ETH token is also trending up against BTC. 
Ethereum Breaks Out Against Bitcoin
Bitcoin might be the world's biggest cryptocurrency, but it's currently trending down against Ethereum.
ETH has experienced price volatility month after setting a record high of roughly $4,870 on Nov. 10, before plummeting by nearly 20% along with much of the rest of the market. 
However, investors appear to have taken advantage of the recent correction toward $3,900 to re-enter the market. The significant increase in buying pressure has helped ETH rebound, gaining over 800 points in market value over the past five days. 
Now, the second-largest cryptocurrency by market cap could be on track to hit new all-time highs. 
The formation of a cup and handle pattern on ETH's three-day chart prints an optimistic outlook for the asset. The distance between the bottom of the cup and the pattern's breakout level at $3,985 indicates that ETH's price could double to hit a target of $9,400 over the next few weeks.
Depsite the strength ETH has shown in the market in recent weeks, a decisive three-day candlestick close below the $3,985 support level could invalidate the bullish thesis. 
While ETH has risen against the U.S. dollar, the ETH/BTC trading pair has also gained significant momentum after enduring a seven-month-long consolidation phase. The ratio between ETH and BTC hit 0.08 for the first time in six months today. The ratio refers to the price of the two assets: at a ratio of 0.08, one BTC is worth 12.5 ETH. Crypto traders frequently discuss the ratio in tandem with "The Flippening," an hypothetical event that would see Ethereum overtake Bitcoin in market cap terms. The ratio would need to be about 0.16 for Ethereum to overtake Bitcoin today. In U.S. dollar terms, the ETH price would need to roughly double to around $9,100.
While Ethereum is some way from overtaking Bitcoin, ETH is edging closer to printing a higher high on the ETH/BTC weekly chart. It's currently trading just a few Satoshis away from the May 15 high of 0.0824. ETH appears to have broken out of a head and shoulders pattern against BTC in late April, which suggests that further gains could be on the horizon. The multi-year consolidation pattern projects a bullish target of 0.1.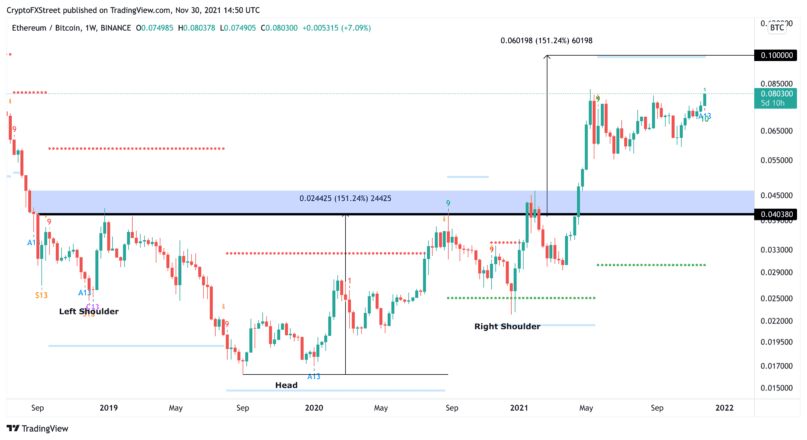 Ethereum looks strong against both the U.S. dollar and Bitcoin, especially now that its circulating supply is shrinking at an exponential rate. Ethereum launched a fee burning update called EIP-1559 in August, which has taken more than 1 million ETH out of circulation to date. Next, Ethereum is expected to merge Ethereum mainnet to the Beacon chain sometime in Q1 or Q2 of 2022, marking the network's transition to Proof-of-Stake. It's thought that the transition could see ETH become a deflationary asset, which could be a major driver for ETH achieving its upside potential. 
Disclosure: At the time of writing, the author of this feature owned BTC and ETH.
Share this article
ZK-Rollups and the Path to Scaling Ethereum
As the cost of using Ethereum increases, the need to scale the network has become more apparent than ever. Zero-Knowledge Rollup technology promises to lower gas fees without compromising on…
EIP-1559 Has Burned 1 Million Ethereum
EIP-1559 has now burned over 1 million ETH worth roughly $4.3 billion. EIP-1559 Hits 1 Million ETH Burned Ethereum's EIP-1559 update has taken over 1 million ETH out of circulation….
Enter To Win A Free 1 Year Subscription To Pro BTC Trader
We're doing this because we want to be better at picking advertisers for Cryptobriefing.com and explaining to them, "Who are our visitors? What do they care about?" Answer our questions…
Bitcoin, Ethereum Trail While Market Picks Up
Bitcoin and Ethereum have faced substantial price drops over the last nine days. While investors are showing signs of fear, one indicator suggests that a significant rebound is underway.  Lower…