Forget Bitcoin and Ethereum — Crypto Traders Are Piling Into Dog Coins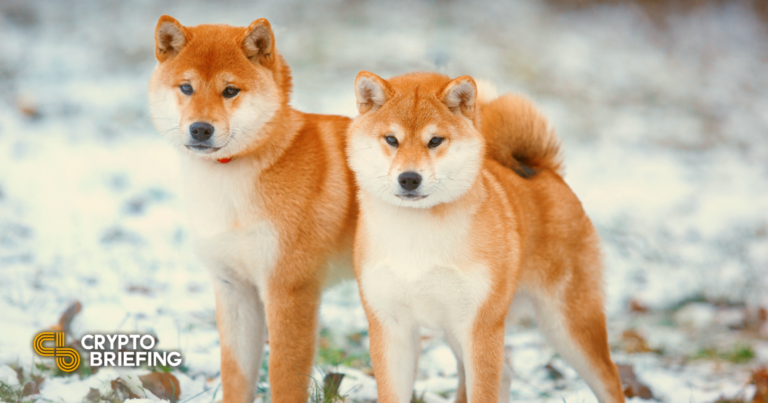 Key Takeaways
The crypto market is taking renewed interest in dog-themed coins.
Assets like Shiba Inu, Floki Inu, Samoyedcoin, and Dogecoin have all soared over the last few days.
Dogecoin has risen by more than 40% in the last 10 hours and could potentially run toward $0.47.
Share this article
Dogecoin has resumed its uptrend as canine coins are soaring again. If buy orders continue to pile up, DOGE could enter a 64% bull run. 
Dog Coin Mania Ensues 
The cryptocurrency market appears to have entered its second dog coin season.
Several so-called dog tokens have rallied this week following Shiba Inu's dramatic rise. The Dogecoin competitor has surged throughout the month, hitting an all-time high Wednesday as it entered the top ten cryptocurrencies by market cap. Many other similar coins such as Floki Inu and the Solana-based Samoyedcoin are also trading in the green amid heightened interest in dog-themed assets. Samoyedcoin is among the biggest gainers: it's up 115% overnight after an 815% rally over the last two weeks. The wave of renewed interest comes despite Vitalik Buterin's recent move to sell millions of dollars worth of dog tokens that he'd inadvertently received in his wallet; Buterin pulled a similar stunt in May when he donated $1 billion worth of Shiba Inu to India's COVID-19 relief fund, helping prices crash due to the lack of liquidity. Around the same time, Shiba Inu and Dogecoin both shed billions of dollars of value in a matter of days during a market-wide crypto crash.
Now, as dog coin mania returns, Dogecoin looks like it's breaking out.
The ninth-largest cryptocurrency by market cap has endured a prolonged stagnation period and now looks primed for higher highs after breaching a critical area of resistance. DOGE's price action had been contained within a symmetrical triangle since Jun. 3, but a recent bullish impulse has allowed it to break out of this consolidation pattern. Further buying pressure could see Dogecoin rise by more than 64% toward $0.47. 
The optimistic outlook can be determined by measuring the height of the triangle's y-axis and adding that distance upward from the breakout point. 
Although Shiba Inu has led the latest dog coin wave after entering a 1,140% bull run to reach new all-time highs, it seems that investors are now preparing for Dogecoin to follow the same path. 
The number of transactions worth over $100,000 on the network has significantly increased in the last four days. Roughly 3,500 large transactions are currently being executed on the Dogecoin network, representing a 162.4% increase since Oct. 23. 
The increase in on-chain activity might suggest that institutional players and whales are starting to take control of the price action. If this metric continues to record higher highs, the odds would likely favor the bulls, meaning DOGE may achieve its full upside potential.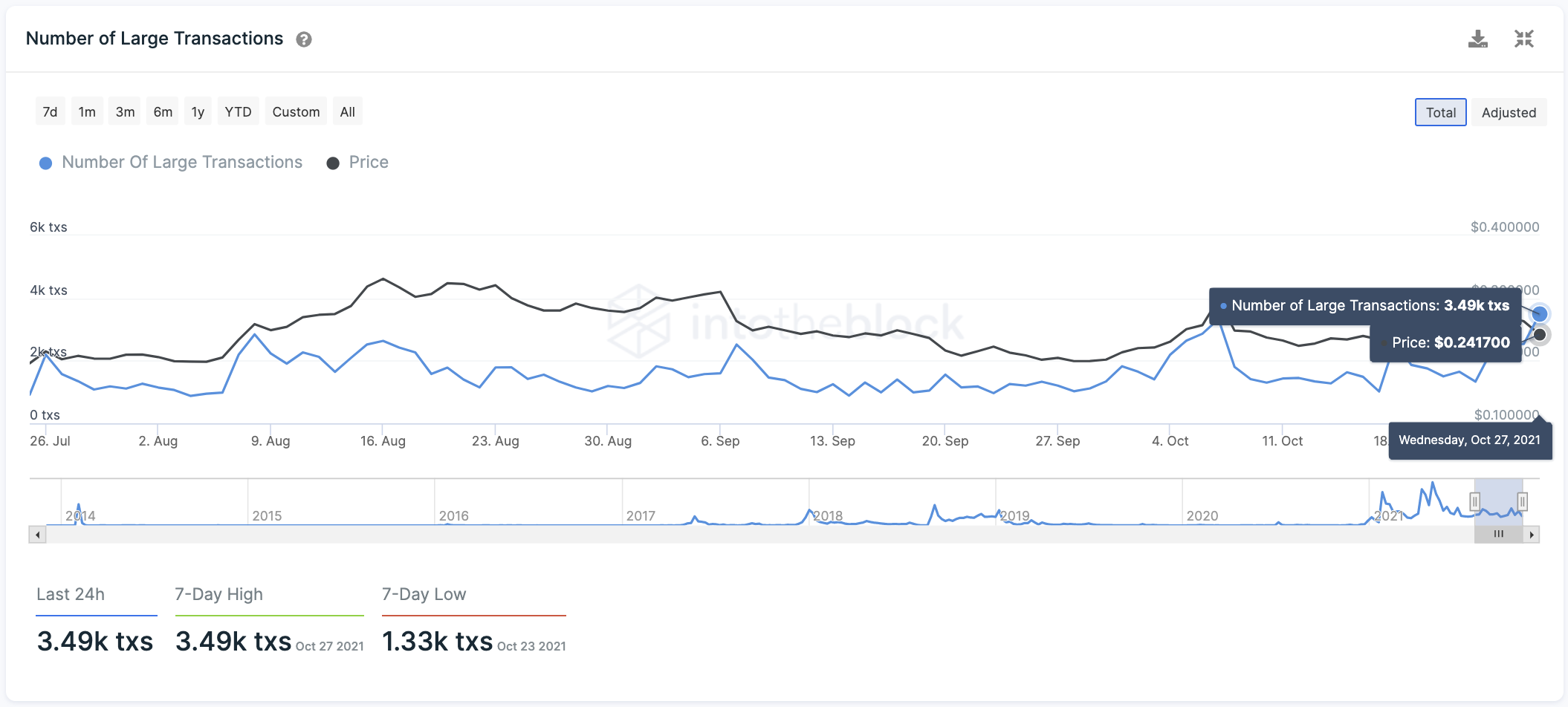 It is worth noting that a decisive candlestick must hold above $0.28 for the bullish outlook to prevail. Failing to stay above this support zone could result in a steep correction for Dogecoin as $0.21 is the most significant interest area underneath it. 
Disclosure: At the time of writing, the author of this feature owned BTC and ETH. 
Share this article
Shiba Inu Hits New All-Time High, Becomes a Top Ten Coin
Shiba Inu has looked strong after managing to shrug off the recent flash crash and reach new all-time highs. This morning it briefly overtook Dogecoin's market cap and at press…
Vitalik Buterin Has Been Dumping Dog Coins, Again
Vitalik Buterin has sold off another $4.3 million worth of dog coins sent to his wallet over the last few months. Buterin used some of the funds to buy and…
What is a Crypto Airdrop: Why Projects Airdrop Crypto
Crypto airdrops occur when new tokens are freely distributed to different wallets in order to drive initial growth and build a community. They represent a popular marketing tactic that new projects use to spread…
Vitalik Buterin Has Dumped His Unsolicited Doge-Clones
Ethereum creator Vitalik Buterin has sold and given away several of the Dogecoin lookalike tokens sent to him in recent weeks. Buterin Sells Off Tokens Over the past few months,…