Italian Luxury Fashion House Dolce & Gabbana Sells NFT Collection for $5.7 Million – Blockchain Bitcoin News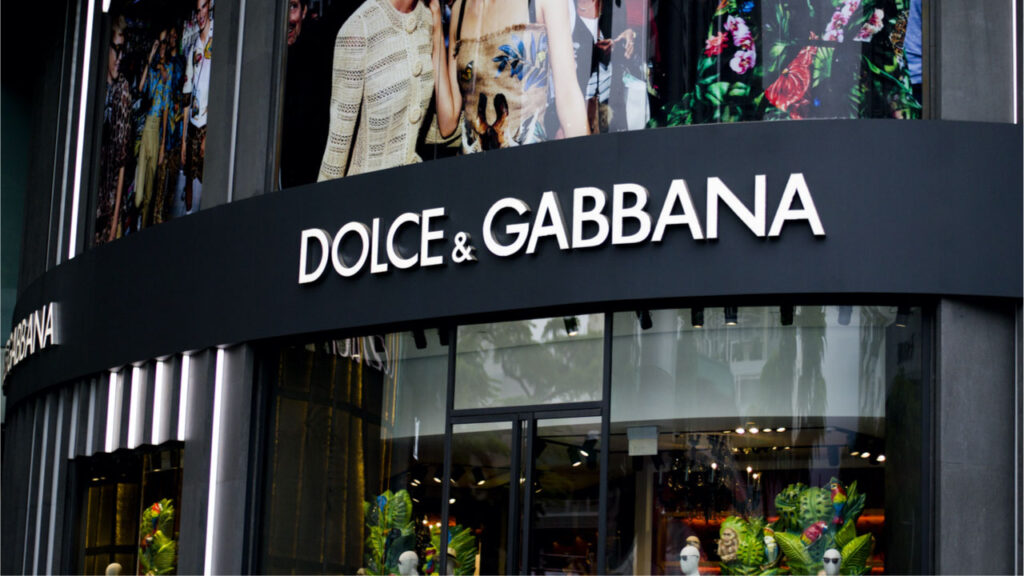 On September 30, the Italian luxury fashion house Dolce & Gabbana sold an NFT collection for $5.7 million or 1,885 ether. The designers' Collezione Genesi collection was sold via the platform UNXD, a Polygon network-powered marketplace.
Dolce and Gabbana's Collezione Genesi Rakes in 1,885 Ether
Dolce and Gabbana's first-ever non-fungible-token (NFT) drop, Collezione Genesi raked in a whopping 1,885 ether or $5.7 million, using ethereum (ETH) exchange rates at the time of sale on Thursday. Two notable NFTs brought in the most funds, "The Doge Crown" and "The Glass Suit."
"The Glass Suit" NFT was personally designed by Domenico Dolce and Stefano Gabbana and the suit is both an NFT and a physical version tailored specifically for the winner. There were also two versions of an NFT called "Dress from a Dream" in the 9-piece "one-of-a-kind collection."
"In a historic moment for the NFT ecosystem, Collezione Genesi is the first luxury NFT collection that involves both digital and physical works, truly bridging the physical and the metaphysical," Dolce and Gabbana's NFT web portal says.
The UNXD Culture Fund, Other Fashion Maisons Delving Into NFTs
In addition to the NFT collection sale on Thursday, a new $10 million "Culture Fund" has been launched by UNXD. The aim of the "Culture Fund" is to accelerate the fashion industry's expansion into the metaverse and NFTs. The announcement detailed that the fund will bring different avenues of revenue to fashion brands and designers.
Dolce and Gabbana is not the only fashion act in the industry getting into NFTs. A great number of other fashion maisons like Gucci, Burberry, and Louis Vuitton have all revealed NFT promotions.
Burberry leveraged the Mythical Games multiplayer online game Blankos Block Party to drop its NFTs and Louis Vuitton also used a game promotion. France's Louis Vuitton launched a mobile game and players could collect a total of 30 non-fungible tokens. The fashion label Gucci used the auction house Christie's for its first NFT drop.
What do you think about Dolce and Gabbana's NFT sale? Let us know what you think about this subject in the comments section below.
Image Credits: Shutterstock, Pixabay, Wiki Commons