Non-Zero Bitcoin Addresses Nears 400 Million Milestone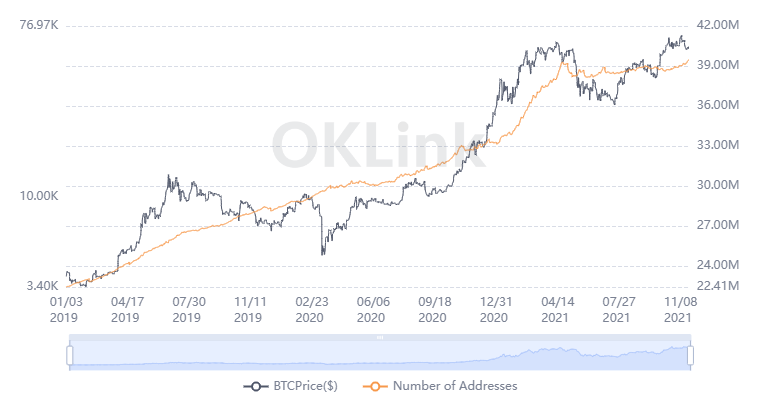 The number of non-zero bitcoin addresses has just reached a new all-time high of roughly 390.4 million. Alongside other metrics, this points towards a potential further bullish scenario for bitcoin in the near future.
The number of non-zero bitcoin addresses has just reached a new all-time high, data shows. The number of such addresses is now just under 390.4 million. This is a good sign for the market, as these addresses tend to go up alongside bitcoin's price.
Likewise, the total number of unique bitcoin addresses is also increasing steadily, at over 905 million as of mid-November 2021. This tends to go up regardless of the price, so it isn't as revealing as the other metric. Nonetheless, it's nearing the milestone of one billion unique addresses, which would be a phenomenal moment for the asset.
Institutional investment has certainly helped bitcoin grow in the past two years. Bitcoin saw record institutional inflow in early November, with related ETFs being a major contributor to it.
There are other metrics that are engendering bullish sentiment for bitcoin. The total value of BTC held by public companies surpassed $15 billion, as was reported earlier this month. That's just 1.2% of the circulating supply of bitcoin, but it is a remarkable shift in perception of bitcoin nonetheless.
A Kraken report released in late October also points out that long-term holders of BTC are continuing to accumulate the asset. This includes whales and miners, so it's clear that these experienced holders are expecting the price to go even further up.
Bitcoin price targets
Bitcoin has had a strong year, but it is still some ways off from the estimates put forth by some analysts. However, the general predictions for the near-term future are still quite optimistic.
PlanB, for instance, is holding onto a target of $98,000 by the end of November 2021 — which is only about a week away. BTC is currently down after a strong period of rising to a new all-time high on Nov 11, before retracing.
Price predictions are by their very nature speculation, and this is especially true for the volatile cryptocurrency market. However, with the number of non-zero addresses increasing and as more companies and institutions deal in BTC, the prospects for new highs in the near future are a real possibility.
Disclaimer

All the information contained on our website is published in good faith and for general information purposes only. Any action the reader takes upon the information found on our website is strictly at their own risk.